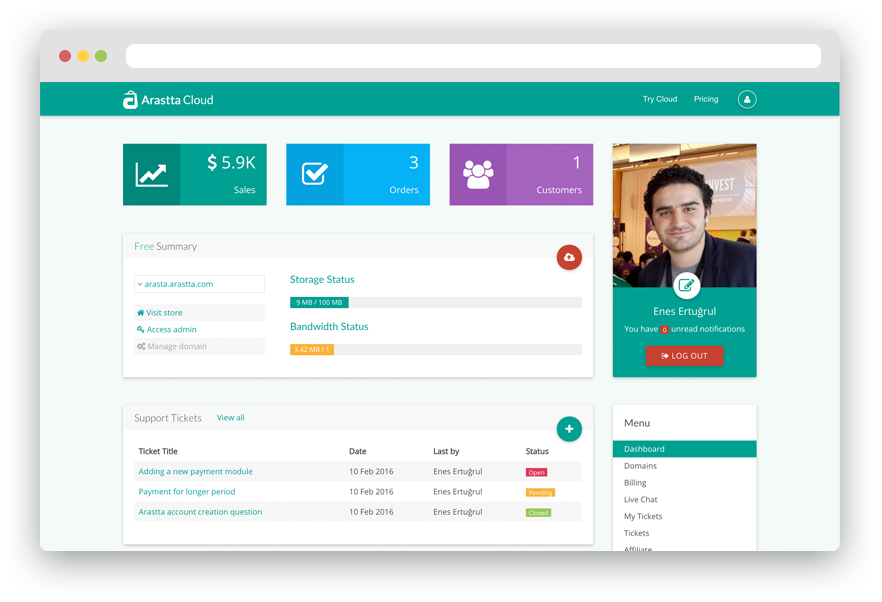 Arastta Cloud
Addition to Arastta software, Arastta Cloud service comes with great features, management tools and opportunities. Here is a quick view:
Open Source Cloud
Arastta Cloud is the first and the only fully Open Source eCommerce platform on the cloud with its Premium and Business plans.
That means your Arastta store is fully under your control. It's a real and 100% Open Source eCommerce solution on the cloud. You can access, manage, customise your store's files and database tables.
Powerful Infrastructure
As makers of Arastta we know very well what Arastta needs and what makes it faster. So we bring together best infrastructure components and optimised Arastta Cloud servers for Arastta software to provide the best performance.
Always latest and powerful technologies are used on Arastta Cloud powered Arastta stores. Thanks to SSD Cloud hosting your online store is in powerful hands.
Support from Experts
For a growing eCommerce store, high-quality and efficient support is a must. And you don't need to search for an Arastta support expert when you are in need of, because Arastta Cloud provides effective Arastta support for Premium and Business plans.
Get the expert Arastta support from the people who are behind the Arastta project.
High Level Security
If you sell something online, your store's and customers' data are so sensitive. To protect yours and your customers' data we take all measures. With extra precaution you and your customers will be safe on Arastta Cloud powered eCommerce websites.
Also we take backups of Premium and Business account stores regularly, thus in case of any problem you can easily restore your backups from your dashboard with one-click.